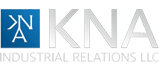 Labor Relations has a critical role when it comes to company success.
When there are either hints or direct signs of workforce organization, it is important for employees to be educated as soon as possible about the complex areas surrounding unionization.
KNA is a leader in Labor Relations — helping employees make more informed decisions.
When a union is attempting to organize employees of a company—KNA educates employees:
Unions' Constitution & Bylaws
Union Organizing Process
Union Organizer Tactics
Employment/Labor Law including the National Labor Relations Act (NLRA)
Collective Bargaining
Unfair Labor Practices
Union Dues
The Impact of Strikes on Employees and their Families
We specialize in Union Avoidance.
In addition, KNA provides guidance and instruction to employees in the critical areas of:
Communication
Conflict Resolution
Employee/Supervisor Relations
These skill sets are essential for healthy conversations and a productive workplace environment.
American industries continue to see an increase in organization, and KNA is here to drive positive employer/employee relations in the greater Los Angeles area and beyond for clients across:
Healthcare, Warehouse & Distribution, Manufacturing, Food Processing, Beverage & Brewery, Trucking, Logistics, Transportation, Utilities, Construction, Hospitality, Waste Handling, Telecommunication, and Airlines...etc.
We are your partner in identifying early warning signs — providing effective solutions to help our clients propel productivity, decrease turnover, and limit and/or prevent unnecessary costs.
If your employees are showing early warning signs of organizing activity, or if you have received a petition from the National Labor Relations Board (NLRB), Contact KNA today.