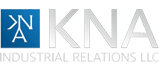 KNA Industrial Relations is a labor and employee relations firm in the greater Los Angeles area serving companies in a variety of industries across the United States.
Founded by President Emigdio Arias, KNA is uniquely qualified to help businesses succeed. With an extensive background in Conflict Resolution and Employee Engagement, the firm brings a high-level of proficiency in positive employee relations, workplace issue identification, and union avoidance.
Our mission Educate Encourage Motivate
Our services:
Employee & Labor Relations
Supervisory/Management Training
Education: NLRA, union organizing process, union organizer tactics, collective bargaining, union dues, unions' constitutions and bylaws, and strikes
Communications/Dialogue Development
Union Avoidance
Workplace Planning
Our firm is dedicated to promoting open and honest dialogue to identify and resolve issues, mitigate risk, and create strong employer/employee relations for long-term business success. We believe in protecting and strengthening the direct relationship between our clients and their employees.
When there is a communication breakdown in the workplace and tensions between employers and employees begin to grow — this can result in low productivity, increased turnover, and unnecessary expenses in defending against employment litigation and countering unionizing attempts.
We are your partner in identifying early warning signs — providing effective solutions to help our clients propel productivity, decrease turnover, and limit and/or prevent unnecessary costs — while teaching and educating leaders how to communicate lawfully, respectfully, and effectively and improving employer/employee relationships.
KNA Industrial Relations serves clients across the following industries:
Healthcare, Warehouse & Distribution, Manufacturing, Food Processing, Beverage & Brewery, Trucking, Logistics, Transportation, Utilities, Construction, Hospitality, Waste Handling, Telecommunication, and Airlines...etc.